The queuing machine has been expanded to include several additional options:
01
A queue management system with the possibility of online appointment booking.
In order to avoid direct contact with the touch screen of the queue management system, we suggest using the online appointment booking and virtual ticketing functionalities. The customer makes an appointment for the chosen date. He awaits arrival or receives a virtual ticket via a text message along with notification that he or she will soon be called to the station. There is no need to confirm arrival using the ticket machine. In addition, the very introduction of the queue management system eliminates crowds of people, which are currently not advisable due to the pandemic.
02
A queue management system equipped with cameras with temperature sensors.
The place where tickets are collected is constantly monitored. When a person approaching the ticket machine has an elevated temperature, a message is displayed on the monitor and/or a sound is emitted.
03
A voice system with a motion detector built into the queueing machine.
A ticketless system where the ticket machine detects movement when a customer approaches the dispenser. The menu (service categories) is presented by voice, the customer specifies the selected option, the screen displays the ticket to him or her or optionally prints it, and the person does not have to touch the dispenser.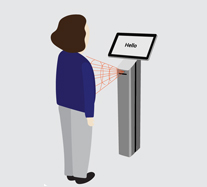 Movement detection while approaching the terminal.
Welcome message and menu contents speaking.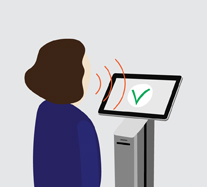 Human response recognition and registering into a quene in case of match.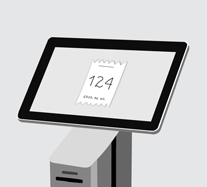 Displaying ticket on the screen with optional possibility to print paper ticket.
Choosing a safe place for waiting.
Do you have any questions?
Contact our sales consultant: